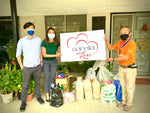 As an effort to support an NGO called Shelter Home for Children, where they provide shelter to abused, abondoned, and at-risk children, we decided to share their "Need List" found on their website, and invited everyone in the office to join in on this project.
We set up a donation station with 2 collection bins in the office and the goal was to collect as much goods possible. 
The donation campaign went on for approximately 2 months and received an astounding response. With everyones sizeable generosity, we significantly exceeded the demands, not to mention almost lost our bins, as they were about to give way. 😅 
Of course we were glad we had enough to share with the other NGO's we were helping out, simultaneously.
The goods were dropped off at the Shelter, just a few days before Christmas. Unfortunately due the current restrictions, we did not get to meet the children but managed to have a quick chat with Mr Alan, one of the representatives. He explained it will be a quiet indoor Christmas for them this year, but was grateful for our contribution.  
We left the compound with a happy heart! Thanks to everyone for all the contribution.