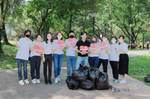 We can't change a rescue dog's past, but we can rewrite its future. 🫰🏻 We visited two animal shelters with some needed support, painted their home and spent a wonderful time with our fur friends. For every dog and cat waiting in a shelter like this, we believe the perfect family for them is out there. Adoption is welcome and feel free to pay them a visit! 💕
Animal Shelters:
🐶 Second Chance – Hulu Langat
🐶 MIAR – Semenyih
We are continuously doing our best part as a part to bring more attention and awareness to save our planet and make it greener and cleaner for the next generation. Recently, we had a great time while fulfilling our #GoGreen initiative. May our little effort be a model towards this vital movement.
Sorella with Love ❤️