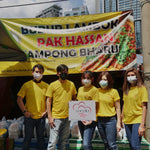 What seemed to be a pretty straightforward activity at first, ended up being quite a challenging one, as the Covid cases rises and SOP's kept changing but that didn't stop us from carrying out our CSR activity this time. 
We figured, some could really use the help during this trying times so we stuck to our Goal - which was to feed some hungry tummies by distributing the Iconic Bubur Lambuk to some Children and Frontliners. (while adhering to SOP standards of course) 
Initially, we were quite ambitious and excited to make all 300 bubur's by ourselves from scratch, but quickly realised we were no professionals and decided to outsource them from a local supplier instead. That way we will be able to support our local business, help others and most importantly not risk anyone getting sick from our amateur bubur 😁
The bubur's were distributed to 4 places which included Hospital Kuala Lumpur, Surau Al Syed Kepong, Pusat Tarbiyah Kepong and Pertubuhan Warisan Suci in Kajang. We also donated some T-Shirts to the Children of the two Homes.
T- Shirts being handed out to the Ustazah at one of the Orphanage 
Unfortunately, due to the pandemic, we had to adhere to strict SOPs and was unable to meet and spend time with the children. Nevertheless, we were assured that everyone enjoyed the Bubur very much and really appreciated the gesture.
Volunteers at Hospital Kuala Lumpur 
Volunteer at Pusat Tarbiyah, Kepong 
Overall the event went smoothly and we are grateful to be able to contribute to the society, especially during this trying times.
Our goal is to continuously help more in the future.
Meanwhile, we would like to take this opportunity to wish everyone Selamat Hari Raya Aidilfitri.
Stay safe and enjoy your time with your loved ones.
#SorellawithLove #Sorellacares