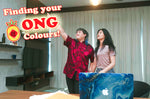 We know it was a bad year in 2020, and a rough start at the beginning of 2021. Sorella Group Malaysia wants to brighten your year with these lucky colours associated with your Chinese Zodiac sign. Believe it or not, the power of colours will help to strengthen your luck, adding these colours into your CNY outfits or even daily wears to kickstart a lucky and prosperity year!
Friends in the zodiac signs of Ox, Goat, Dragon and Horse would want to opt for red as your colour of the year as it is arguably all-year round fashionable. Like they say, wearing red will bring positivity to you and will shower you with good fortune and wealth. Why don't you get a matching women bra set of the same colour for your outfit this holiday? You can find a plethora of choices to pick from Sorella
bra for women online here
on our website.
Meanwhile, green is suitable for friends in the zodiac signs of Snake, Rat, and Tiger. This colour is said will improve your wealth, bring you an abundance of opportunities and hope!
Friends born in the year of Monkey, Rooster, and Dog are good friends so let us suggest you that blue might be the colour for you! Blue represents trust, loyalty, and honesty.
Next, the colour of purple suits friends for the zodiac sign of Rabbit. It is believed can make your mind and thoughts more energetic. If you ever feel sluggish, purple can improve the mood. Need some new nightwear to add to your collection? Why don't you
shop pajamas online at Sorella
as we have plenty of choices for you that come in a wide array of colours!
Last but not least, the black colour is the zodiac sign of Pig's best friend. Black symbolizes the flow of water, bringing change to your life. It is that one colour which could match perfectly with almost anything, including your favourite outfits!
This coming Lunar New Year, visit Sorella boutiques to get your selections of colourful innerwear that will bring you good luck every day!
If you need to get your shopping needs fixed, then hop on to
shop Sorella lingerie online
. We are having a HUAT-mazing CNY Online Sale right now with discounts up to 73% off and tons of voucher codes for extra savings! On top of that, you can even get your hands on RM400 worth digital angpao when you spend a minimum of RM180 in a single order.
Though it might be a lil bit too early, but Sorella Malaysia wishes you a Happy Chinese New Year and stay safe Sorella Sisters!