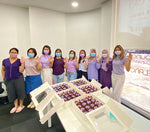 This year for International Women's Day, we painted the office purple and took this quote quite seriously. So at 10am, we declared it Cupcake O'Clock!!
Why not right? - It was afterall, Women's International Day and what better way to celebrate than with some purpulicious cupcakes!
To make it even better, we had the beautiful cupcakes catered from a Bakery owned by 3 sisters, who we are certain we will definately be seeing again (once we find the next excuse to have their delicious cupcakes again) - Yay to sisterhood!!!!!!!!
Everyone enjoyed their cupcakes and exchanged thoughts about what #choosetochallenge meant to them. 
It was a short and well deserved break. 
Thank you Sorella with love and Cosy Cakes for making our day a little bit sweeter.