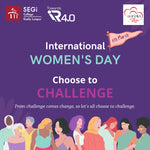 Sorella with love is all about giving back to the community, more over when it involves Women Empowerement.
So when Segi College KL approached us and ask if we would like to participate in their International Women's Day as one of their sponsors we didn't hesitate to say Yes.
We contributed some vouchers as gifts for their participants and hope to have more collaborations with Segi Group of Collages in the future.